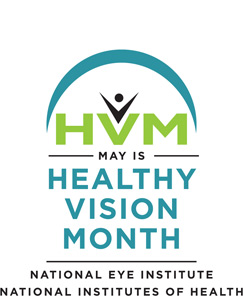 In order to promote proper eye care, the National Eye Institute (NEI) has designated May as Healthy Vision Month. With that same aim, Insight Eyecare's "iCare" blog launched just over a year ago, to educate patients and the general public about the importance of caring for their vision.
The NEI advises people to quit smoking (which increases the risk of eye disease), eat right and maintain a healthy weight, all of which safeguard vision along with improving overall health. In addition, the NEI reminds us each May about eye care basics I have written about previously. Here's a brief recap, with links for further information.
Regularly scheduled eye exams are the only way to evaluate the health of your vision. Besides testing your vision acuity, a thorough eye exam allows me to check the physical health of your eyes and can even reveal symptoms of general health problems such as high blood pressure and high cholesterol.
For many people, extended wear contact lenses are a convenient and comfortable alternative to glasses. However, it is very important that you care for your lenses properly and replace them as scheduled. If you experience any prolonged redness or discomfort from your contact lenses, see your eye doctor.
Good vision is critical to academic success. As much as 80 percent of children's learning occurs through visual input. When a child's vision is suboptimal, his or her performance in school and sports can suffer. Don't put off an eye exam just because your child is young, because detecting vision problems early on can save years of struggling.
Protect Your Eyes at Work and at Play
Your eyes are very sensitive. Since they are the primary window to the world around you, it is important that you take the precautions necessary to protect them. Invest in a quality pair of safety glasses, and wear them whenever they are needed. When relaxing or recreating outdoors, always wear a good pair of sunglasses to protect your eyes from UV rays. In the office, take steps to prevent eye strain.
These are just a few topics I have covered over the last year. I look forward to sharing more in the future. Check in regularly with the iCare blog for updates.
For more information on Health Vision Month, visit:
Dr. Jeff Pinkerton
iCare for you.