What Happens if I Wear My Contacts Too Long?
About three times a week, I treat patients who have developed eye infections due to extended wear contact lenses. Although extended wear lenses are safe, wearing them longer than they are intended is not. Patients often tell me they are trying to save money, and some suspect that eye doctors and contact manufacturers recommend more frequent replacement in order to boost profits. My concern here is only for the wellness of your eyes.
Since I encounter this problem frequently, I present here a graphically accurate (yet PG rated) description of what happens to your eyes when you do not follow the care and replacement schedule for your extended wear contact lenses. Hopefully this information will help my readers prevent permanent damage to their vision, and maintain the overall health of their eyes.
A Closer Look at Your Contact Lenses
Structurally, a contact lens is similar to a kitchen sponge. It is porous, allowing it to absorb and transfer fluids, gasses and debris toward and away from your eye. Like a sponge, your contacts collect and trap various contaminants; however, as your kitchen sponge ages and collects contaminants such as food and grime, you notice that it becomes less absorbent, appears to dry out, and starts to smell as bacteria grows within the pores. All of these indicators let you know when it is time to throw that old sponge away and get a new one out of the package.
Contact lenses age in a similar way, so it is important that they are replaced before they begin to house bacteria. Similar to the kitchen sponge, prolonged use of your contacts results in decreased performance and eventually a severe threat to the health of your eyes.
Remember, whether it be your kitchen sponge or your contact lenses, when you take a new one out of the package, that is as clean as it is ever going to be.
Let Your Eyes Breath
Fresh contact lenses promote two things that are essential for healthy eyes. They allow essential oxygen from the atmosphere to pass through the lens toward the eye. At the same time, mucus and cell waste migrate away from the eye. Over time, external contaminants such as pollutants, smoke, and dust continue to clog the lens' pores. Meanwhile, natural enzymes, mucus and other biological debris clog the lens' pores from the inside. As the clogging progresses, your lenses lose porosity and harden, like your old kitchen sponge. When this happens, the transfer of oxygen and waste shuts down and trouble begins.
Oxygen is crucial to the health of your eyes. The cornea is protected by a thin layer of cells. These cells survive on oxygen drawn from the atmosphere. If these cells are deprived of oxygen, they quickly become swollen and weak, and expose the cornea to bacteria. If your lenses are not allowing oxygen in, then they are not letting bacteria out.
The tissue of your eyes sustains itself like any other living tissue. Cells grow and produce more cells. As a result, biological waste is produced. Your clogged contact lenses trap this waste against your eye tissue. The tissue is then literally living in its own filth and becomes an ideal breading ground for bacteria.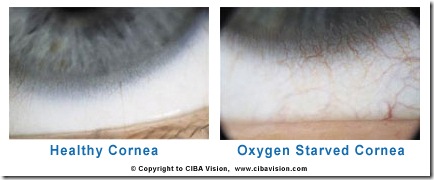 Once the cells covering the cornea become weak, they are further damaged by the worn lenses themselves. Clogged and hardened lenses easily damage the weakened cells, separating them from the cornea. The damage can be compounded by any debris trapped behind the lens. Eventually, tiny abrasions or cuts are formed allowing bacteria to directly penetrate the cornea. Infection can occur whenever bacteria is allowed to attach itself to eye tissue. Once bacteria penetrates the cornea, it can eat completely through the tissue in as little as 24 hours. This causes irreversible vision loss and could result in the loss of an eye (or two).
What to Watch For
The most important thing to pay attention to and follow is your contact lenses' care and replacement schedule. Other than that, your lenses should feel comfortable. Your eyes should look healthy. And as always, your vision should be clear. If you experience any prolonged discomfort, redness, or change in vision, contact your optometrist today.
Dr. Jeff Pinkerton
I care for you.